Best Eye Doctor in Jabalpur
Meet Dr. Pawan Sthapak, Your Trusted 
Eye Doctor in Jabalpur – Delivering
Excellence in Eye Care Services for a
Brighter Vision.
Dr. Pawan Sthapak Journey
Dr. Pawan Sthapak is dedicated to nursing and healing all eye diseases. As eye surgeons, they have been serving the community for decades. He serves not only the people of Jabalpur but also people from outside the city. Overseas patients come for eye treatments.
Blessed by Pujya Guruji Dada Bhagwan Virendrapuri Ji when I was a young student of MBBS, DOMS, and MS. I am specialized in Lasik, Cataract, Glaucoma, and Cornea Treatment with 30+ Years of Experienced.
Eyes are one of the most important sensors of the body as they give the human to see the beauty and challenges of life and nature when a person faces challenges in the eyes aspect they go to an ophthalmologist, and I am one of the experienced eye ophthalmologists in Jabalpur and trying my best to serve the mankind, I would say that by god grace I got a big platform to serve the mankind but the journey for that young Pawan who had dreams and massive courage to become the Best eye specialist in Jabalpur was not easy.
I belong from a small village Bhorjhir district Narsinghpur, I came here to complete my schooling at a very famous school back in that day's Model High School and then I did my MBBS and DOMS from Netaji Subhash Chandra Bose Medical College and then I did my Post graduation from Lugansk State Medical University and I also hold a fellowship from Moorfields Eye Hospital in London.
Dr Pawan Sthapak's Hospitals
Dada Virendra Puri Ji Eye Institute
Jotpur, Near Tilwara Bridge, Chargawan, road, Jabalpur, Madhya Pradesh 482003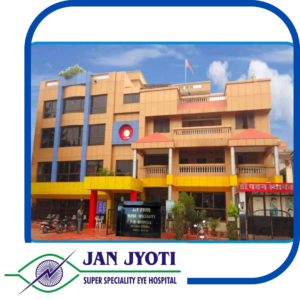 Jan Jyoti Super Speciality Eye Hospital in Jabalpur
1051, GOLE BAZAR RANITAL, near KESHARWANI COLLEGE, Wright Town, Jabalpur, Madhya Pradesh 482002
"जाने से पहले किसी को देदो जीवनदान, अमर रहना हैतो कर दो नेत्रदान!!"
Dr Pawan Sthapak Blessed by Dada Virendrapuri Ji
I received the blessing of Pujya Guruji Dada Bhagwan Virendrapuri Ji when I was a young student. I started a camp for 12 years back on his birthday 13 April for Cataracts as I believe Service to humanity is the biggest Service to God and by now I have provided my services to more than 1,25 lacs patients. Eye surgery in Jabalpur was done personally for more than 2.50 lacs.
Dada Virendrapuri Ji Maharaj eye bank in Jabalpur was inaugurated by Swami Satyamitranand Ji on 22 June 2006 and by now there have been successful 317 transplants of the eye which have provided eyesight to blind patients.
I am proud to tell you that I am dealing with my Jan Jyoti eye hospital which provides free eye check-up for students.